CREDIX is an online payment company with Top notch security system.
We do our best to provide a safe and secure online payment for all the customers and to strengthen the security.
Encrypted communication by SSL

Customers' information is protected by SSL, which is the industry's standard security function and will not be seen or steal by the third party.
【Confirmation method】
You can confirm that it is encrypted with SSL by the following method.
1. Confirm the URL on the address bar beginning with "https".
2. Confirm the lock icon on top of your browser.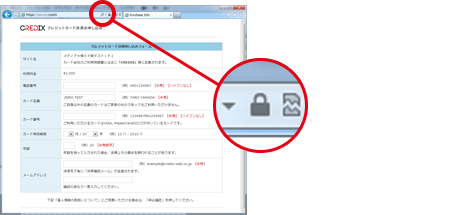 ※The picture is that of IE9
Customers' private info will not be notified to the alliance stores.

Your customer information will be managed by CREDIX. Alliance stores will only acquire the information needed to provide service purchased.
Customers' information is managed to be the privacy policy of CREDIX, and will not be provided to the third party beyond the consented range. Please feel assured to use our service.
If you have any concerns or questions, please contact us. We will help you 24/7/365.

Our specialized courtesy staff will help you anytime. If you stuck some issues, like a "Not being able to use the service even after purchase" or "Wanting to check the transaction record", we are here for your assistance.
If you have any question regarding payment of credit card, Chocom eMoney, and Rakuten-Edy, contact the following.
Security standard and program CREDIX has introduced

PCI DSS(Payment Card Industry Data Security Standard)means global security standard established by five international payment brands, JCB, American Express, Discover, MasterCard, and VISA in order to credit card information and transaction safety and security used by alliance stores and payment agencies.

Registration of business

Credit card number usage contractor
(Registration: Kanto (ク) 96th/ Registered on June 12th 2019)